Crisis Drives Creativity
How IT Cadre Responded to the New Reality
July 20, 2020 by Miranda Allison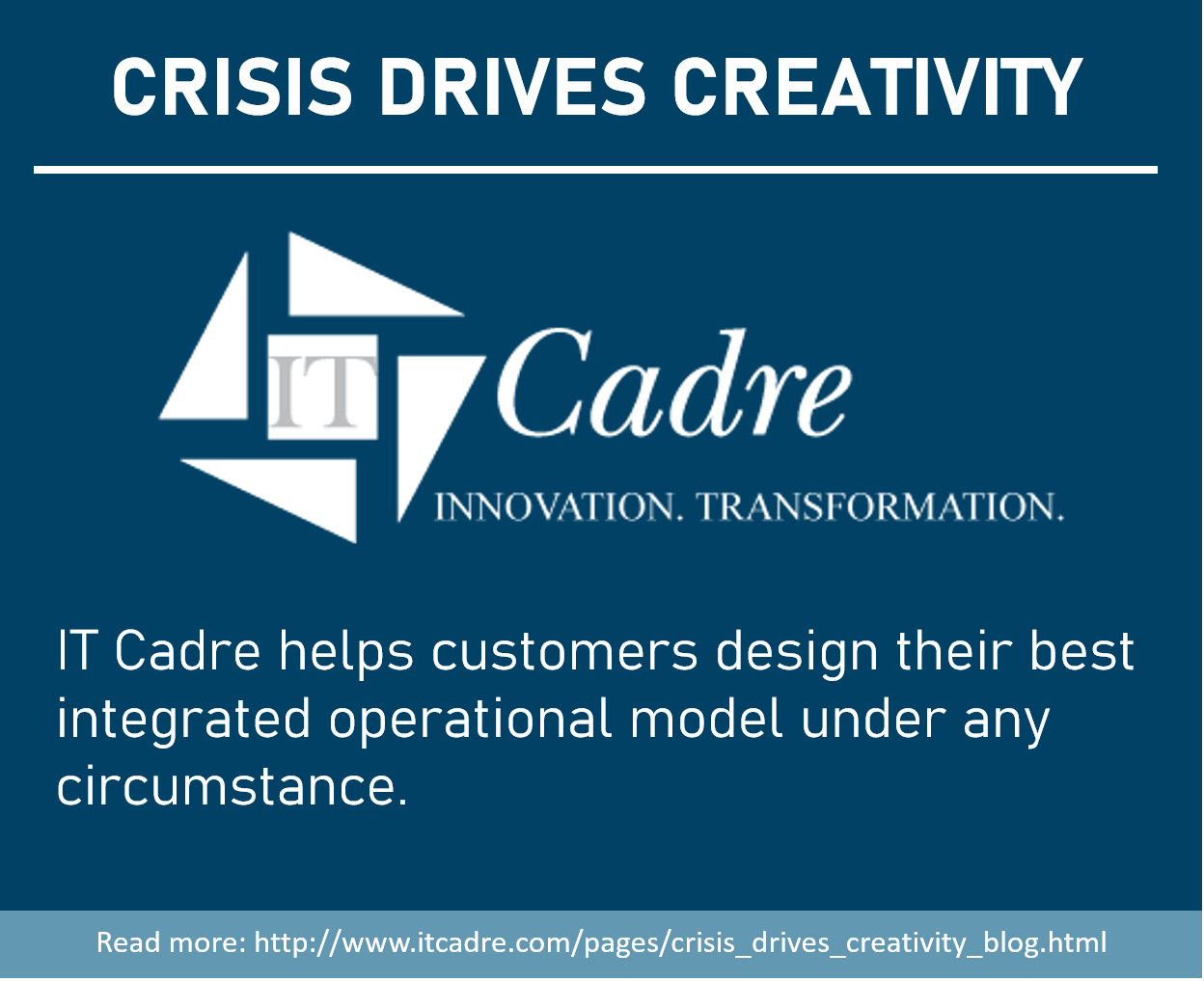 IT Cadre helps customers design their best integrated operational model under any conditions. We provide our customers trusted insight® and help them achieve their most important transformational initiatives, which has been proven during these uncertain times.
The COVID-19 pandemic has challenged all organizations. However, IT Cadre believes Crisis drives Creativity and we are excited to share how we have been able to respond to our new reality and become a better organization. The mission must be accomplished under any circumstances. We are helping our customers reevaluate and restructure their current working model. At IT Cadre, what we do remains the same; though we have adapted and tailored our client interactions to make them effective in various states of lockdown. No two are the same - clients use different products, maintain different standards, and have different comfort levels using technology, but all our customers remain focused on achieving their vision. The IT Cadre team has benefited from years of working with customers that have locations all over the world. This made our transition to a more remote model a seamless shift. Our teams have stayed on track or ahead of schedule regarding customer deliverables, while going above and beyond to ensure effective communication with the internal team and our customers.
Buddy Rizer, Executive Director of Economic Development for Loudoun County stated: "IT Cadre has set an example of what companies in Loudoun should be doing during this crisis. IT Cadre quickly took action and initiative in creating a safe but completely operational environment for their employees and customers, all while effectively staying connected with one another."
With the current restrictions and obstacles, it's more important than ever to get everyone engaged and on the same page. We perform integrated analysis creating an enterprise view where people, process, infrastructure, systems, and data views come together in a comprehensive and easy to understand format. This creates consensus and visibility across the organization that drives decisions and rapidly achieves success. IT Cadre understands the importance of quickly adapting to change as it is the nature of our work. If you are responsible for an important program, complicated initiative or transformational effort in any domain, there is no better way to ensure success than IT Cadre's methodologies. To learn more, please contact:
Darcy Eid, Director of Business Development
703-724-5458
darcy.eid@itcadre.com