IT Cadre's Current State

February 5, 2021 by Jeanne Godfroy, Ph.D.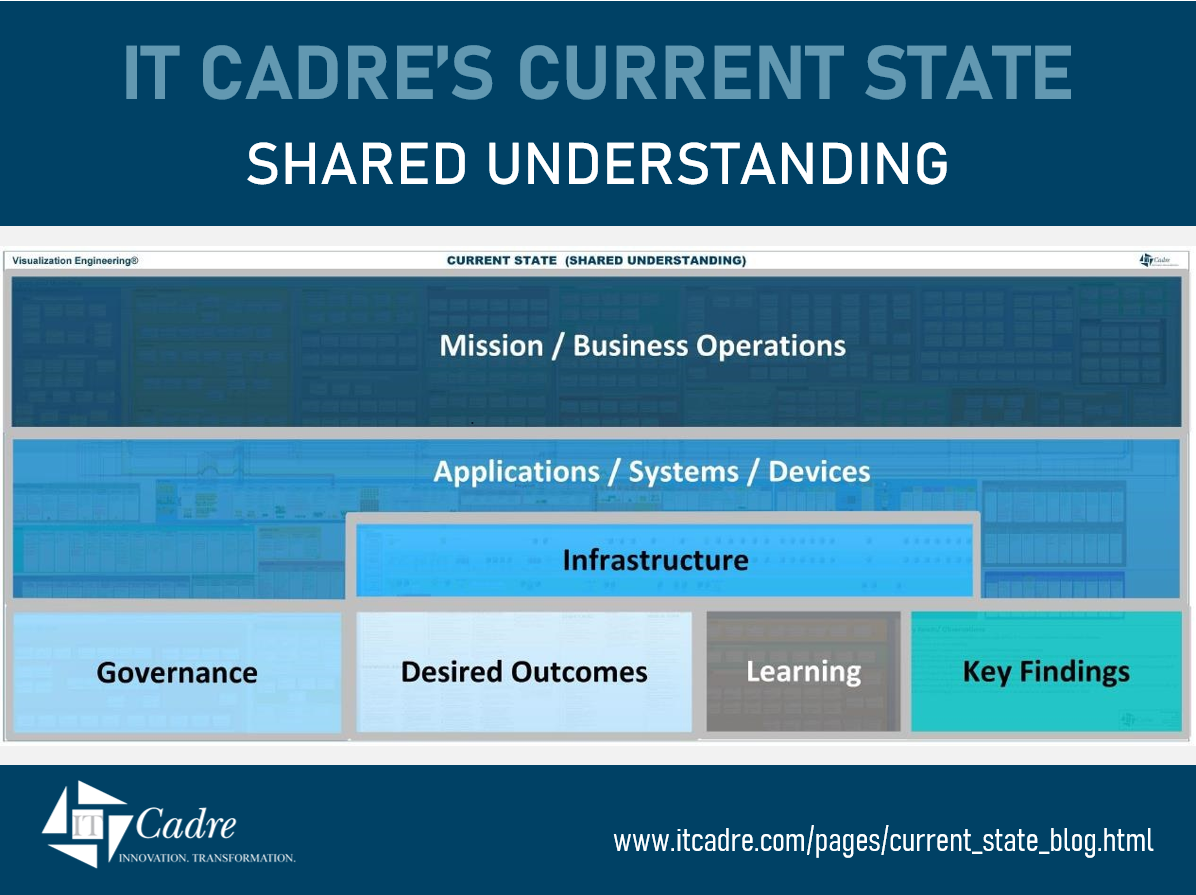 "If I had only one hour to save the world, I would spend fifty-five minutes defining the problem, and only five minutes finding the solution." - Albert Einstein
Taking over a large, complex organization is a daunting task. Those responsible for leading those organizations may feel overwhelmed with the volume of new information they must absorb, especially when operating under tight timelines or with limited resources. In these circumstances, the management team may not have the time or organizational energy to fully assess their organization's Current State before addressing urgent business needs. As a result, these leaders may make changes or take other initiatives without a clear understanding of the underlying people, process, or technology-related problems preventing their organization from making real progress. Any changes made under these conditions may solve superficial problems, but are unlikely to address the fundamental issues holding the organization back.
Leaders who have access to a comprehensive Current State assessment of their organizations on hand can avoid these errors. A Current State assessment is more than an org chart that simply lays out a company's personnel structure: an actionable Current State consists of an end-to-end view of the organization in terms of people, business processes, and the systems the business relies on to conduct day-to-day operations. That view should highlight and show relationships between the following features:
Formal and informal decision-making structures and processes
Communication mechanisms
Critical technologies that support business operations
How business missions, goals, and processes align (or fail to align) with those other attributes.
Scrutinizing these characteristics and others allows leaders to identify dependencies, gaps, redundancies, and other problem areas, and it simultaneously gives them the ability trace the impacts of those problems. This kind of Current State analysis clarifies business needs and highlights opportunities for improvement. The act of developing an in-depth Current State visualization also shows executives that their unit leaders have exercised due diligence in assessing problem areas before requesting resources to address them.
At IT Cadre, we specialize in helping our clients construct comprehensive Current State visualizations that get to the heart of how their organizations operate. We do so by building end-to-end visual "maps" of our clients' businesses in terms of people, processes, technologies, mission, goals, priorities, and other characteristics that meet our clients' unique needs. We use our independent analysis of those Current States to simplify and summarize complex scenarios, and we do so quickly and with a light touch.
We meet separately with small groups to develop a holistic picture of the organization, which allows everyone from entry level to management positions to become involved with - and take ownership of - the final product without disrupting their normal business activities. Importantly, we deliver a first draft in 15 days and typically complete the Current State analysis and prepare clients to present a final version in 90 days or less, allowing all participants the maximum time available to understand and make substantive changes to their businesses.
Do any of these scenarios apply to you or your organization?
Changes are coming and you need something quickly to provide to your new leadership.
You are new to an organization and have difficulty understanding the strategic context of your day-to-day operations.
You know you need to make changes, but you aren't sure which changes will have the greatest impact and / or you have difficulty getting the funding or other resources you need to implement them.
A new organization with a need to understand the current state of the elements that are used and the ones that are available in the creation of the new organizations to ensure you know where you are at the startup of the new organization.
You want more fidelity on the software and other technologies your teams depend on to execute their mission.
You want to know more about how your business processes function and how those processes align with current or future goals.
You want to know how work is distributed and prioritized among your teams and whether or not you are organized for success.
You want an independent evaluation of what you think is happening within your organization.
If so - and if you are interested in hearing more about IT Cadre and what we do - please reach out to us at:
Darcy Eid, Director of Business Development
703-724-5458
darcy.eid@itcadre.com