About IT Cadre
Since 2001, IT Cadre provides our customers Trusted Insight℠  and helps them achieve their most important transformational initiatives and programs. We use our innovative methods such as Visualization Engineering® to provide an immediate and dramatic impact. We perform integrated analysis creating an enterprise view where the people, process, infrastructure, systems, and data views come together in a comprehensive and easy to understand format. Our methods provide our customers a means to gain consensus and visibility across the organization that drives decisions and rapidly achieves success. Your Vision. Our Purpose.â" 
Visualization Engineering®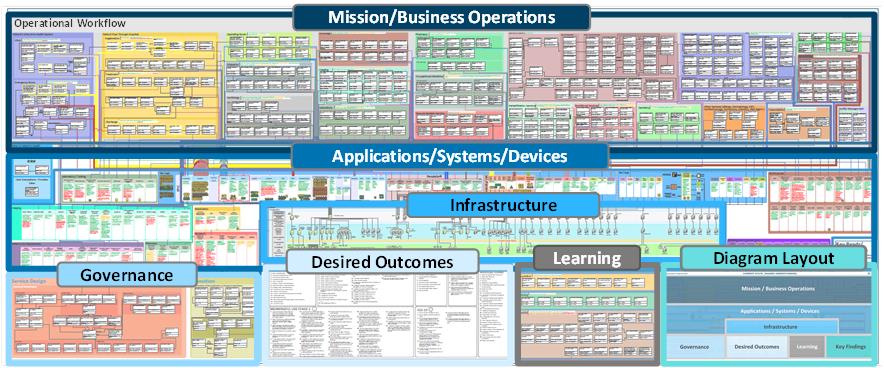 IT Cadre does something that no other firms do. Using Visualization Engineering®, IT Cadre creates a holistic view where the strategic, process, technical, and organizational views come together in an easy to understand format. Opportunities, issues and disconnects are revealed and more importantly, the key steps to move forward are identified. This has been the core of our business since 2001.
With remarkable speed, IT Cadre can create an accurate picture of where you are today, where you need to go, and how to get there. We have a long heritage of successful cost, schedule, and technical performance management for our customers. If you are responsible for an important program, complicated initiative or transformational effort in any domain there is no better way to ensure success than Visualization Engineering®.
Abstract

Crisis Drives Creativity
IT Cadre helps customers design their best integrated operational model under any conditions. We provide our customers Trusted Insight℠ and help them achieve their most important transformational initiatives, which has been proven during these uncertain times.
IT Cadre was proud to be awarded a Phase I Air Force SBIR Contract for ViEW by AFWERX on March 6, 2020. We successfully completed Phase I requirements on May 15, 2020 and can be awarded SBIR Phase III contracts immediately.
To receive the full version of this report, please contact us!